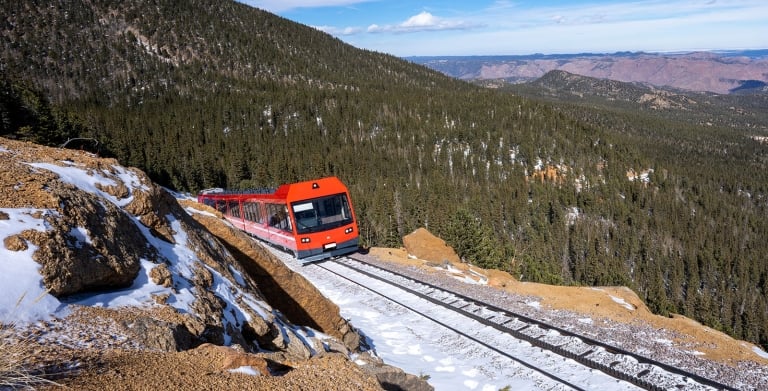 As you can imagine, when you're at an altitude of 14,115 feet, the weather at Pikes Peak is constantly changing and the air is a bit thinner. Did you know, ascending 1,000 feet is like traveling 600 miles to the north—the temperature drops about 3.5 degrees every 1,000 feet and you experience different life zones.
When you're at the summit of Pikes Peak, you can expect the temperature to be about 30 degrees cooler than it is at the depot in Manitou Springs, and don't be surprised if you experience all four seasons during your visit.
To see current conditions on the summit, click here.
Climate Data Pikes Peak Summit
| Month | Jan | Feb | Mar | Apr | May | Jun | Jul | Aug | Sep | Oct | Nov | Dec |
| --- | --- | --- | --- | --- | --- | --- | --- | --- | --- | --- | --- | --- |
| Average High °F | 8 | 11 | 14 | 20 | 28 | 39 | 48 | 48 | 39 | 28 | 16 | 11 |
| Average Low °F | -4 | -3 | -1 | 5 | 14 | 25 | 34 | 33 | 24 | 14 | 4 | -3 |
Source: summitpost.org